This fall I am on a quest to discover the spirit of community building.  In our ABCD training, I use this visual to introduce the concept of thinking about the "pond" as an analogy for a holistic veiw of community buiding.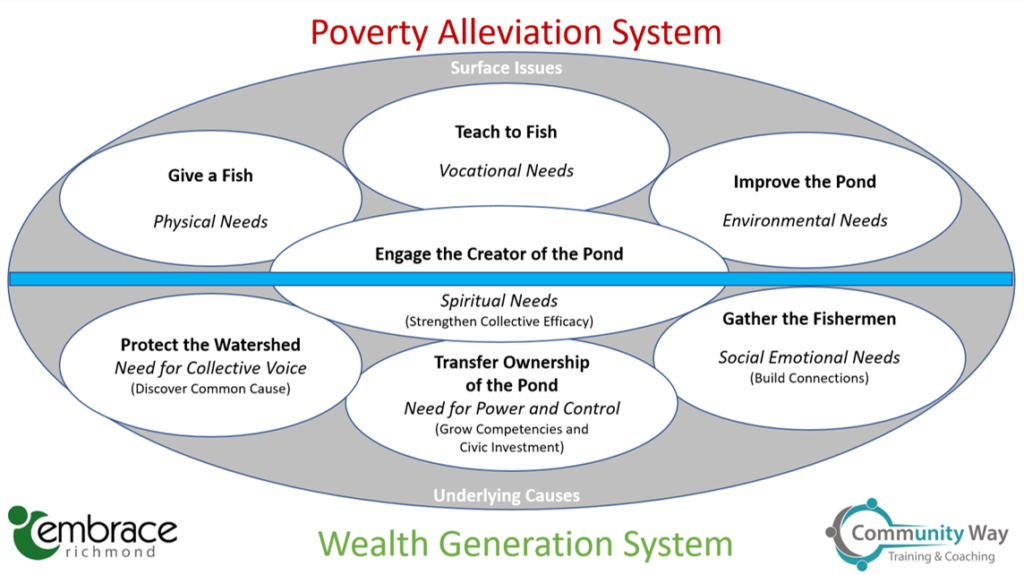 In the center of it all is the spiritual nature of this work.  In most of my writings about community building, I focus on the social emotional needs, the need to transfer power and control to citizens and the structural and systemic issues that keep our communities from thriving.
This series of posts is specifically focused on the spiritual nature of this work.  As a Christian, I have elected to use the book of Luke as my compass on this journey but my desire is to identify practices and principles that are universal.
When I refer to the "spiritual" nature of this work, I do so very broadly.  If we do not have faith that things can change, nothing will.  Where we derive that faith from and what we have faith in varies from person to person. But with out faith, we can not do the challenging work of community building.
Below are the posts that I have shared thus far:
Nurturing the Spirit – How this quest began.
Containers NOT to use in Community Building – Why we need new structures for a new movement.
The Most Significant Thing I Learned in my New Testament Class – What is our mission?  Why are we doing this?
The Fastest Way to Anger any Religious Group – The challenge of welcoming all.
4 Lessons on Team Building for the Most Successful Community Builder of All Time – The ordinary made extraordinary
Community Building Starts in the Wilderness 
When the Enemy Joins the Revolution
The Greatest Threat to Christianity