As I sat across the desk from a newly appointed community builder, I could see the frustration in her face as she said,
"There are just so many needs!  How can I focus on the assets when people need food, jobs and transportation?"
It is a look I see often in my coaching work.  We look around and it feels as though we are getting swallowed up by all the problems facing the community.
As we continue our quest for the spirit of community building, I want to draw our attention to a passage of scripture that I think can help us with this challenge.  It is found in Luke 5:12-16 appearing right after the call of Peter which we looked at last week and right before the call of Matthew which we will look at in a future post.
It is the story of Jesus healing a man with leprosy.  After he healed him, Jesus instructed him to show himself to the priest and to make an offering as a testimony to them. In verse 15 we are told,
"But now more than ever the word about Jesus spread abroad; many crowds would gather to hear him and to be cured of their diseases.  But he would withdraw to deserted places to pray."
Can you see this scene?  Word has gotten out that this man Jesus can heal people of disease, so people are traveling from near and far.  The demands upon him must have been overwhelming. So much need!  Yet, the text does NOT say, "So he worked 24 hours a day healing everyone who came."  Instead we are told, "But he would withdraw to deserted places to pray."
This is not a one-time retreat but a regular practice.  We saw a similar comment in chapter 4 verse 42,
"At daybreak he departed and went into a deserted place. And the crowds were looking for him, and when they reached him, they wanted to prevent him from leaving them.  But he said to them, "I must proclaim the good news of the kingdom of God to the other cities also; for I was sent for this purpose.""
When I was in seminary I took a course on Celtic spirituality.  The class met at a retreat center not far from Richmond.  We would meet for roughly 30 minutes to discuss our readings and then Dr. Stephen Brachlow would tell us to go get lost in the woods and come back in two hours and share what God said to us.  It was in that class that I learned that creation itself is a powerful teacher.  Something about the consistent steady rhythms reminds us that we are simply actors in a much larger cosmic drama.  The rising of the sun, the changing of the leaves, the flow of the creek water to the ocean, the continuous changes yet that stable unchanging witness.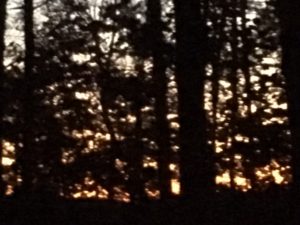 I woke up this morning before dawn.  I grabbed a blanket and a cup of coffee and positioned my chair toward the east and I waited.  Slowly the pink sky gave way to light and then that big ball of fire illuminated my world.  That is the power of the wilderness.  We enter alone but are soon reminded that we are just a small part of a much larger story.  We enter thinking we are in control and are reminded that we are sheep being tended by a merciful shepherd.
Jesus easily could have camped out in one village and simply focused on his healing ministry.  However, as good as that is, it was not his calling.  In the same way, those whom God is raising up to be community builders often get sidetracked by the demands for the meeting needs.  It takes time alone in the wilderness to be reminded that our calling is bigger than meeting needs, it is about strengthening communities from the inside out.  That process begins with our own inside out transformation.
I don't think it is an accident that these two "withdrawals" by Jesus proceed him calling his first two disciples.  It is not that Jesus is ignoring the need.  Instead, I believe he is praying for the wisdom to build a movement that will touch every corner of the globe.  He does not let the immediate demands get in the way of the long-term vision.
As I sat with the overwhelmed community builder, I asked her to tell me about the needs.  The first comment she made was that people in the community needed greater access to food.  I asked her if anyone else in the community cared about that issue.  She immediately named a long-time community member who was well known by the residents.  When I asked, is there any reason why this person could not be put in charge of getting food to the people, she said, "no."  Within weeks, this community member became the food coordinator for the neighborhood.
As we went through the long list of "perceived needs" what we discovered was that some of those needs were not even named by the neighbors themselves.  They were "needs" that institutional groups had told her she needed to address.  For example, groups claiming the residents needed parenting classes or financial literacy classes had each put the burden on her to recruit community members.  As we looked at that long list and asked the simple question, "Is this something the community cares enough about to make happen?" If the answer was "no," that "need" got marked off.  This gave her focus and direction.
At the conclusion of our session, she said to me,
"So my job is to empower the community to meet the needs they care most about?" When I said, "Yes!", she replied "I love my job!"
We often allow the world to try to tell us what we are and are not supposed to do.  It is only through time in the wilderness that we can hear clearly from the one who wrote our job description.  I truly believe only those who are called to this work will thrive at it.  Without a deeper sense of calling, we will get swept away by the agendas of others.
So, how does this passage inform our quest for the spirit of community building from an asset-based perspective?  It reminds us not to focus on needs but instead know our calling and stay true to it.
This passage also instructs us in how we can do that.  We have to retreat regularly into the wilderness.  I believe the wilderness is both a reference to nature as well as a metaphor for time alone.
After taking Dr. Brachlow's Celtic spirituality class, my husband and I purchased 22 acres in the middle of nowhere.  I credit our ridge-side retreat for helping me maintain some level of sanity in the midst of a whirlwind of community building activities over the past decade.  It is in this place, in the early morning hours when the world is still asleep, that the fog and confusion clears from my mind and I gain clarity.
As we look for principles and practices that can guide our community building efforts, I believe this practice of retreating and praying in the wilderness should be on the top of our list.  Our work is multi-faceted and ever changing.  It requires tremendous discipline to stay on course.
I would love to know what your time in the "wilderness" looks like?
How has the wilderness informed your community building efforts?