My favorite scene in the movie Selma is when the crowd comes over the bridge and in that justice-seeking mob there were both white and black faces standing side by side.
My daughter lived that Selma moment yesterday in Charlottesville.  She was sprayed in the face with pepper spray and was among those injured in the car crash.  As we raced to the hospital, I was in shock.  Partially frustrated that she did not heed our warnings and get out of there hours earlier when the protest turned violent but also deeply grateful that she was alive.
Both she and her best friend were struck by the cars that plowed into the crowd driven by the white nationalist (or whatever name they are calling themselves) who was seeking to inflict the maximum level of harm upon a group of unarmed peaceful protesters. Caroline was knocked to the ground hitting her head and scraping her arms and legs.  Her friend Mary was pushed onto the hood of one of the cars and when the driver reversed and pulled the pile up backward, Mary fell to the ground and was badly cut on the leg with a laceration to the bone.  Thankfully, both girls received immediate medical attention and when we picked them up from the hospital, they were in good spirits, but still in shock over the fact that someone had attempted to kill them all.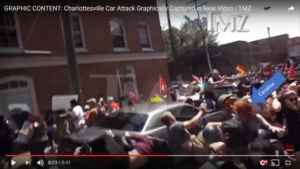 The girls went on and on about the attentiveness of the health professionals who had treated them earlier in the day for injuries from the homemade pepper spray but even more so during the car crash and the aftermath.  I just want to thank all those who kept this tragedy from being even worse.
When we arrived at the hospital it was on lock down.  Parents were frantically trying to get to their children and everyone was on high alert. It felt like the city was under siege.  Charlottesville had been invaded by domestic terrorist and this city, that has chosen to honor all her citizens, was punished in the  vilest way.
Thankfully, Caroline was released soon after we arrived and I can't tell you how happy I was to see her walking down the sidewalk toward us. As I drove the girls from Charlottesville back to Richmond, there was a steady stream of reporters calling them and asking for a statement.  At first, I was annoyed, but I think it helped them both to share their experience.  I believe they were still in shock but as they told the story, I could hear them piecing together the memories of that terrible experience.
As a mother, I am thankful their physical wounds will heal and in a matter of weeks, there will be no visible signs that they were there.  However, I believe this incident has marked them for the rest of their lives. At 19 they came face to face with pure evil and it is still too early to determine how they will make sense of this senseless act.
This is not Caroline's first protest.  If there is an opportunity to stand on the side of justice, my little red head will be on the front line.  In high school, she helped organize a student walk out to protest budget cuts that would have seriously impacted education in our city.  She was at the women's march in Washington and has attended Black Lives Matter events. However, nothing prepared her for this.
I believe in the freedom of speech and the right to peaceful assembly.  But this was nothing more than an assembly of bigots seeking to recruit more hate mongers to their cause and to incite violence.  When the protesters were escorted by police from the park and their protest declared unlawful my daughter texted, "We Won!"  In reality, the enemy was victorious. They did what they set out to do.  They got national coverage of their sick cause. My daughter is too young to understand that you can't engage irrational people in a rational way.  Hatred twists the hearts of men and women and makes them act in ways that are beyond comprehension.  Sadly, she witnessed that later when the car plowed into her and her friends.
While I am heartbroken that my child had to experience this, my deeper emotion this morning is one of disgust.  Late last night after the dust settled, I watched President Trump's statement in stunned disbelief.  He seems to think that there were "many sides" to this issue and that they were all equally valid.
When he went on to say, "this has been going on for a long time," it felt as if he was dismissing the gravity of the moment.  Yes, racism is as old as this country.  However, what happened in Charlottesville is not "same old, same old."  His words were not comforting, or reassuring, or even convincing.  It felt as if he were being forced to condemn the violence but was trying to do so without angering his base of supporters. At the same time trying to distance himself from the whole issue with words like, "not Trump, not Obama."
My daughter is a government major.  She still believes that, at its heart, our democracy is worth saving.  I so wish the man claiming to be our rightful leader would have been more concerned about those impacted by domestic terrorism than in his own political future.
So, to all those who peacefully marched against hate, I say, thank you. Thank you for recognizing terrorists in our own borders.  Thank you for resisting this trend toward condoning hate speech as simply a matter of opinion.  Thank you for reminding us that there is a right side and a wrong side of this issue.  I pray your courage will embolden us all to resist this normalizing of racism. Thank you for being the leaders we so desperately need right now.