When I saw all the freshly fallen snow out my window early this morning, I felt like a little kid who awoke and realized it was Christmas morning and Santa Claus had come!  I am a native of Texas, so I still get super excited about snow or at least the first snow of every year.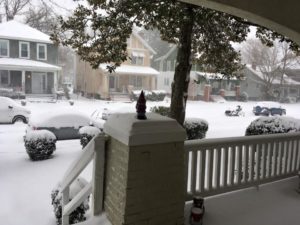 It was still dark out, so I opened the blinds, found a comfortable position on the couch, and with my coffee cup in hand, I stared out the window like the little kids in Dr. Suess' The Cat in the Hat.  At first, all I saw as a sea of white but when my eyes focused on the street light, I could see that small flakes of snow were still falling.  As I focused on the falling snow, suddenly I could see this fine white power streaming down in places it had originally been invisible to me.
Without the street light, I probably would have never seen it but it was the willingness to get still enough and focus long enough that the invisible became visible. As the sun rose and filled the sky with light, I no longer needed to strain, it was impossible not to see what was there the whole time.
Nearly 20 years ago, I read Henry Blackaby's classic, Experiencing God. The words,
"Look for God at work and join in" Click To Tweet
have echoed in my brain for nearly two decades. That admonition has been the foundation of my life's work.  Long before I ever heard of Asset-Based Community Development, my deepest desire was to see God at work around me and find a way to join in.
This past month through Embrace Richmond, we raised $30,000 that will be used to engage youth in the community building process.  Over the past two years, we have done short-term summer listening projects with the youth but our desire is to take our youth engagement to a whole new level; engaging youth in on-going community development efforts and empowering them to take more significant leadership roles.
In the past, the way we recruited our summer teams was pretty crude.  I would walk the streets and offer the young people pizza and cash if they would join in.  In the summer months, this proved to be pretty effective.  However, this fall as we launched two very small pilots of what we are calling our Young Leaders Program, this process has been far more difficult.  I realized that if we want greater commitment from the young people we are going to have to be more intentional about how we identify them.
The words, "look for God at work and join in" kept whispering in my ear.
Click To Tweet
So now that the fundraising campaign is over and the fun part of my job is about to begin, I am going to take Blackaby's advice and I am going to use this morning's lesson as a guide.
Where are the points of light in my community? What will I see when I focus on them?