For years I was the only ABCD practitioner in my region and it was a lonely experience. Last year we launched an ABCD Regional Network. It grew out of a desire to support the leaders who were applying ABCD in ten neighborhoods across our region.  Each neighborhood transformation story is different and each effort is led by a different partner.  We knew that if we could link them together, we would all be stronger and we could serve as a strong voice for ABCD in our region.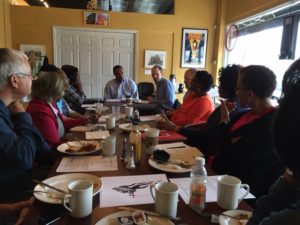 Our regional network meets monthly and is my absolute favorite gathering of the month.  Those who participate are serious about asset-based community development. Some are residents of the neighborhoods where they are engaged and others are institutional leaders who have committed to ABCD.  All are amazing people who not only share a passion for ABCD but who put their hand to the plow and are doing the hard work on the ground.
Over the past year of experimenting with our local group, we have learned a few lessons about facilitating a successful network.  Below are a few insights we have gleaned:
Common Language: Before you are able to launch a successful network, you have to find a way of insuring everyone has a shared language.  We attempted to open our group up to those interested in learning about ABCD and found that the group could not go deep without a shared starting place.  We now require that everyone attend ABCD training before entering the group.  This was relatively easy for us since we offer ABCD training often in our region and as I shared in my prior post, I will be offering web-based ABCD training through our Communityway.online.
Shared Experiences: The richest part of our time together is the sharing of updates by each of the leaders about their neighborhood work.  I promise you it is not always rosy stories of how great things are, it is often heartbreaking stories about just how difficult this kind of work is.  We require that everyone who joins this group be leading the work on the ground in a neighborhood.  This leads to a real sense of comradery with the more experienced practitioners offering support to those who are just starting out.  Over the past year, we have watched this group of strangers become a family of co-laborers.  This rich exchange would never happen if the group was not all engaged in the same work and if they were not all following the same six phase process.
Regional Agenda: From day one, our mission has been to expand the ABCD movement in our region.  This vision goes beyond the individual practitioners and the work in their respective neighborhoods and speaks to a cause that is greater than any one of us.  Together, we can achieve so much more than we could individually.  This shared mission has helped to shape the group culture making it a very generous and supportive environment.  When one of us succeeds, we all succeed.
Globally Linked: Each time we gather, we start with what we are learning through our local stories.  However, my role in these conversations is to link our local work to the global conversation.  I spend a lot of time reading and studying the work of practitioners outside our region, looking for best practices that might inform our local work.  By linking our local efforts to the global movement, we have been able to build on the hard work of others.  In other words, we are building on the global assets.  Our Dream Catcher project is built upon work done by Broadway UMC in Indianapolis and our Block Connector work is built upon the work of ABCD Institute.  Our local versions have been contextualized and shaped to reflect our unique setting but the inspiration came from the innovative efforts of others.
As the ABCD movement expands globally, I suspect similar networks have formed and are forming in cities across the globe.  I would love to know if there are other Regional ABCD Networks that exist and if you have any additional pointers on how to create a strong local network.
If you are an ABCD practitioner and would like to connect with other practitioners, please sign up here and I will contact you regarding your interest in an on-line cohort. We are exploring on-line communities of practice in the coming year and would like to gauge the interest in such an offering.
If you are in the Metro-Richmond area and would like to join our Regional Network group, you can contact us here.