In my last post, "A Metal Detector to Keep the Bad People Out," I shared one of the six challenges facing the Asset-Based Community Development (ABCD) movement named by Jody Kretzmann during the ABCD Festival in the United Kingdom last month – "ABCD is necessary but not sufficient."
As a co-founder of the ABCD Institute which gave life to the ABCD movement, Kretzmann knows better than anyone the foundations upon which the movement was  built and the threats it is facing.  Kretzmann's honest and humble analysis of the future of the ABCD movement was one of my favorite training segments of the event.  (You can listen to Kretzmann's talk here.) 
Over the next few weeks, I want to unpack each of these challenges in greater detail and wrestle with the implications of each.  These titles are my own way of summarizing what I gained from Kretzmann's analysis:
The Threat of Bigness
All Talk, No Practice
ABCD is Necessary but not Sufficient
Mapping Without Mobilizing
Too Much Money
Arrogance of Thinking We Created ABCD
Today, I begin with , The Threat of Bigness.
"We are constantly confronted with people telling us about the limitations of smallness. People want us to "go to scale. A dangerous temptation we face is to think big – to think that bigger is always better, that national is better than local.  The lesson from the work of ABCD is exactly the opposite, the smaller we remain the more we are able to focus on the local and the more powerful the movement is.  We are not interested in growth, but proliferation, not replication, but the spread of the power of neighbors.  The defense of the small is at the core of our challenge for the future,"    Jody Kretzmann
All of us who are engaged in ABCD work know this threat all too well. For me, the pressure to expand, to take things to scale, and to increase outcomes is fueled both from outside the organization as well as by my own expectations.
While the pressure from funders and donors is real and something that I battle daily,  I think the greater challenge for me is managing my own expectations. My own sense of purpose and achievement are all too often defined by worldly measures of success that promote the lie that bigger is better.
Years ago someone shared this quote from Mother Teresa with me: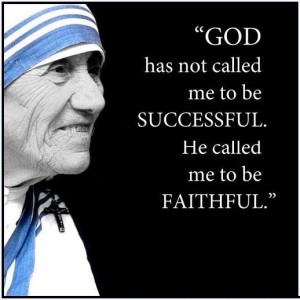 Kretzmann's challenge to be "defenders of the small" helped me reorient my own thinking and gave me permission to celebrate the small moves toward citizen-directed action.  These small moves are not always exciting and the outcomes are often obscure but I know that proliferation of the small acts can create a  tidal wave of change.
At the conclusion of the ABCD Festival, John McKnight had us each come up with a few words to describe our experience at the festival.  As the 200+ participants shared their words, one phrase stood out to me, "Dream Big, Think Small."  This is a challenge to each of us and I hope my fellow ABCD practitioners will hold me accountable as I seek to take seriously my role as a "defender of the small."
"Do not despise these small beginnings, for the Lord rejoices to see the work begin."  Zechariah 4:10