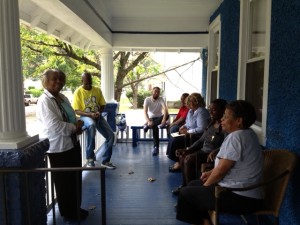 Last summer when we asked more than fifty of Historic Brookland Park residents,
"If you could change anything about your neighborhood, what would you change?"
The number one response was,
"I would like to know my neighbors better."
That is how "stronger community connectedness" become the top priority for our community development efforts in this particular neighborhood.
During our community conversations last fall on this topic, Mrs. Sadie Johnson challenged us all when she said,
"If you don't talk about the elephant in the room, you will never achieve greater community connectedness."
The elephant is of course race.
This neighborhood, which is also my neighborhood, is changing rapidly as an increasing number of white residents move in.  What was once a strong tight-knit African American community where everyone knew everyone else, is now a neighborhood in flux.  The whites tend to associate most with the whites and the long-time black residents voice their concerns that the neighborhood they have always known is disappearing.  There is tension.  It is the elephant that is in every community conversation, quietly sitting in the corner, just waiting for the opportunity to stamp out any attempt to bring about unity.
This past winter our prayer team, which is a radically diverse group of people (black and white, rich and poor, young and old, male and female), decided to intentionally start talking about the elephant.  One of the most helpful ways we found of entering into this conversation was to talk about the impact the elephant of racism was having on our community.  We named three clear signs of the elephant's existence – inequity in our schools, inequity in our criminal justice system and inequity in our health outcomes.
The facts do not lie.  No one can look at the inequity in our schools, the significant over representation of African Americans in our criminal justice system and our disproportionate health outcomes of our black brothers and sisters and claim that racism is not impacting our community.   While we could name a dozen other manifestations or racially biased outcomes, these three were the ones that were impacting those of us in the circle and thus were the ones we choose to prayerfully engage.
What we have discovered is that they are all inter-connected. 
The school to prison pipeline and a culture in our schools of seeing the students as the enemy requiring increasingly heavy handed "zero tolerance" rules has created a hostile learning environment for many of our youth who have, in effect, disengaged.
The lack of nutritious affordable foods available to families is impacting the ability of our youth to grow and learn and are leading to significant health challenges.
Our youth who feel powerless in a system that they believe is unchangeable are making choices that result in them entering the criminal justice system which will exclude them from having equal access to the economic system.
Our educational system is turning out students who cannot read into a society that increasingly requires higher levels of education resulting in large numbers of unemployable citizens.   These unemployed and under-employed citizens are increasingly frustrated, angry and without hope, making change more difficult.
This interconnectedness became most visible to me this past week in talking to my friend M.  M originally named education as the area she was most interested in working on because of her concerns for her 11 year old son who will be going to middle school next year.  The school he is zoned to attend is among the lowest performing schools in our city.  She can't afford private school, she was unable to get him into any of the public alternative schools, and she is fearful of what will happen to him next year.
I personally have seen how M and her son have been impacted by their health challenges.  Her son was hospitalized for his asthma last week and M has been in and out of the hospital due to complications from her diabetes.  This has made it impossible for her to work and her son is struggling in school due to absences.
This week she shared that she felt the criminal justice system was where she wanted to focus because she was watching the young men her son associates with make choices that were likely to result in arrest.  M knew that if her son was on that path, she would need to change the way the criminal justice system functioned.  She did not want her son to be one of the youth being hunted by the police the way she witnessed his friends being hunted.  She fears for his safety.
M needs a solution to all three issues and she needs it last week.
Swimming around in this sea of dysfunctional systems with people like my friend M who are trapped in them is frustrating, exhausting and overwhelming.  This is where I have been since February, since our group named our three areas of concern.  I felt like we made a huge step forward by naming the elephant of racism and by exposing the impact of the racist systems in our community but now what?
The elephant is huge and we are just a small group of concerned neighbors. 
I feel like we are going to be playing wack a mole….hammering down the impact of one unjust system just to see another rear its ugly head.  I can see why so many of my African American friends have given up on our nation ever changing.
This past week, I finally gained a little clarity.  I received this Inward/Outward devotional the morning of our Peace and Justice Circle meeting as I was praying about our next step forward:
"If we truly are growing in love with our neighbors who are suffering at the hands of unjust systems—if that love is deep enough and authentic enough—then finding ourselves opposing those unjust systems will follow as naturally as the morning follows the night…. I don't think we go out looking for oppressive systems to confront, like Don Quixote went out looking for windmills to attack. Our doing must flow naturally out of our being. Our doing for justice must flow naturally out of our being in love with those for whom there is no justice." K. Killian Noe, Finding Our Way Home
My friend Dori Baker recently shared that she felt white middle class Americans see the issues in racial injustice as a "Black" community issue and are unwilling to get involved.  I have another concern.  I fear white middle class Americans thinking that they have the solutions to the issues impacting the black community and trying to impose their solutions.  What we both recognize is that white Americas are clueless and potentially dangerous and at the same time essential in the process.
What I am most thankful for throughout my own journey of seeking understanding about racial injustice is my African American friends.  While I am thankful for books like Letters Across the Divide, Faith Rooted Organizing,  Red, Brown, Yellow, Black, White—Who's More Precious In God's Sight?: A call for diversity in Christian missions and ministry, as well as trainings like those offered by Racial Equity Institute, what has been most helpful to me in this journey is my relationships.
When I look at M's son, I don't see a face on a TV screen, I see a terrified little boy who is running out of options.  When I look at M, I don't see a stranger asking for help, I see my sister in Christ who is desperate to save her son from a path that will only lead to heartache.
So, what is my path forward?  I care deeply for the beautiful people in our Peace and Justice circle. Allowing my path forward to be defined by whatever emerges from our shared life together feels like a natural next step for me.
I also think allowing our "doing of justice" to grow out of our "being in relationships" with one another, should be the path for engaging white middle-class American's in this struggle.  Friendships that grow strong enough that our love of our neighbors who are of differing races drives us to rectify our broken systems.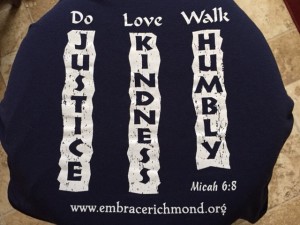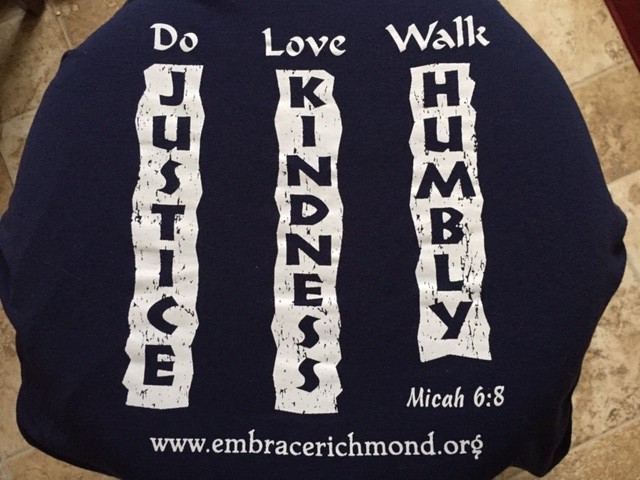 It will not happen over-night but if enough people commit to the process, our collective voices will amplify the call for justice.
Micah 6:8 has been a key verse for Embrace Richmond since our founding.  My favorite part of Micah 6:8 is not the command to "do justice" it is the command to "walk humbly."  If you are a white American who wants to help foster a more just America, please humbly admit that you are clueless and seek out brothers and sisters of color who will gracefully guide you.  I pray we all seek to grow in humility as we follow the spirit wherever this path leads us.
If you found this post helpful and would like to read other posts on this same topic check out these posts.