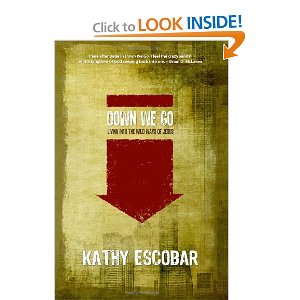 I am a secret admirer of Kathy Escobar.  Well, it is not really a secret.  In 2011, I wrote three posts expressing my love of her book Down We Go.  (See original posts  here , here and here)
In less than a month, I will be Dallas presenting at the Sentralized Conference.  As I scrolled down the list of speakers, I was thrilled to see Kathy's name.  While I have never met Kathy face to face, she did graciously share her insights with me over the phone a few years ago.  I am hoping I get a chance to finally meet her.
I am reposting some of my favorite Kathy quotes so you will all understand why I am her not-so-secret admirer.
"Jesus doesn't call us into a life of ascent where we move further and further away from the things of this world. Rather, I believe he calls us to a life of descent, of downward mobility, where we move down into the trenches of real life, real pain, real hope in our lives and in the lives of others."

"Everything points toward people above programs, relationships above power, and risk above comfort.  We must break down the walls that separate people, which create an "us vs. them" mentality, and actively resist the upward pull of comfort and away from pain."

"The world is not desperate for new knowledge; there's plenty of that to last many lifetimes. The world is aching for authentic people willing to be Jesus' hands, feet, eyes, and heart and boldly go where he goes – to those on the margins of life and faith."

"The Kingdom of God isn't going to drop out of the sky; we will have to be active, intentional participants in revealing it.  This begins with expanding our view of God beyond our limited experiences and seeing the spirit at work in unlikely places.  When we put relationship with people above everything, we will cultivate authentic transformational community – little pockets of love – instead of spending our energy, building ministries or lifestyles that don't reflect the humble spirit of the beatitudes.  These pockets of love help teach us interdependence, a critical characteristic of Kingdom living."

"There is nothing more beautiful to me than seeing hurting people find authentic, healing community…When I am with my friends in the darkness and pain, I am acutely aware of God's presence more than in my comfortable places."

"It 's hard to live in the dark places of people's experiences. It's sometimes brutal to be tangled up in real life, fear, shame and debilitating struggle.  But the truth is…I've learned more about God and myself than through all the years I'd spent going to church and seminary, attending small groups and Bible studies and trying to learn about being a Christ-follower.  The journey down has forced me away from just talking about loving others to actually practicing love with others."

"Inside each person is the image of God just waiting to be discovered."

"A theology of brokenness embraces our spiritual poverty, questions, doubts, and desire for love, hope and redemption, and reminds us that the stink and the beauty are wrapped into one."

"One of the biggest problems in every community, including most churches, is that so many people actually feel invisible, worthless and purposeless…The problem of invisibility has nothing to do with money or religion.  Invisibility has to do with our disconnectedness from the heart and soul of another  human being, which then disconnects us form the reality of God."
"As we acknowledge our own pain, we cultivate the ability to feel, comfort and enter into the pain of others, too.  Before I started embracing my own painful story, I was unable to have true compassion for others.  Sure, I could offer simple, trite advice or offer to pray, but I didn't connect on a deep, heart-level because I wasn't in touch with my own heart."

"Jesus was never about words without actions.  He was always about real love…Over and over, we see him model direct interaction with people, primarily those on the fringes.  He worked with a select group of people and invited them to practice love, which meant engaging those on the fringes.  We have complicated many of his simple ways."

"If we are going to be able to love our neighbor, we must at the same time learn to love ourselves, to let God's love touch our hearts.  Self-hatred, self-doubt, insecurity, depression, disconnectedness, and loneliness plague so many yet we often haven't created spaces that help shift these damaging patterns."

"My working definition of church is: "People gathered together in some way, shape, or form to learn and practice the ways of Jesus and pass on love, hope, mercy, justice and healing in a broken weird world."

"Imagine the shift that would happen if people actually viewed Christians as cultivators of little pockets of love.  Pockets of love are places where the gospel can be lived out through hearts in action."

"I think our families, neighborhoods, cities, and the world can be radically changed if more intentional communities – little pockets of love – are cultivated."

"If you have God in a tiny box, limited by small definitions of who God is and how God works, we will not be open to creative imagination or allow our lives to be fueled by a more expansive view of what's possible.  We'll also have to reckon with humanity's gravitational pull toward comfort and the vast difference between "building a ministry" and "cultivating community."

"Jesus never talks about right beliefs, doctrinal statements, or church services.  He simply said, "Come, follow me.""

"Without taking God out of the box, we'll never be able to make what could be, a reality."

"Learning Kingdom ways is unsettling.  Our beliefs are important, as they are a part of our faith, but the word "belief" has come to mean our reasoning about God and the dimensions of the box that we put God into."

"What would it look like in a community of faith if we recognized belief as important, and honored it, but do not have it serve as a gatekeeper for being together?  What would it look like if we allowed the larger community to continually shape and reveal our understating of who God is?  I have seen God grow bigger, and more real in people's lives because they are experiencing an unadulterated version of their own, rather than my version."

"Over the years I have seen what can happen when we listen instead of talk, and learn instead of teach."

"My controlling tendencies can leave me thinking, "I should do something to bring that person over to the land of right-thinking."  I am learning to hold that at bay and take my grip off others' spiritual steering wheels and let God do the driving.  The point is not to avoid understanding who God is; the point is to keep our means of understanding open."

"As we expand our "God borders" personally and corporately, we'll provide room for people to explore what it means to know and follow Jesus, without feeling judged, squeezed down, or forced to conform in order to be in relationship.  As we learn to let go, we stop being know-it-alls and start being humbler, kinder people open to God's spirit at work in our own lives and in the lives of others."

"Many are tired of seeing new wine continually poured into old wine skins."
Now do you understand why I feel such a kinship with this woman whom I have never met?  If you are looking for a great book by someone who not only talks about following Jesus in radical ways, but actually lives it, check out "Down We Go."