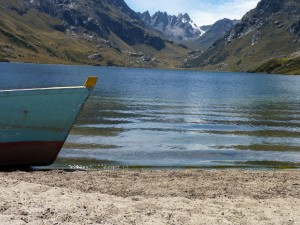 Today we arrived on the other side of the lake.  The journey began one year ago this week.  My family began this voyage leaving behind our comfortable suburban life.  We stepped out boldly.  Like Abraham we had no idea where it would lead or how we would get there.  Some thought we were crazy, some saw it as foolish and others called me selfish to subject our family to such uncertainty.
We never stopped to count the cost. I naively thought if it was God's will then the path would be smooth.  It was as though I had never read the Bible!  I learned over this past year that the exact opposite is closer to the truth.  We have faced every imaginable and even unimaginable obstacle as we sought to go "all in."
As waves tossed my family and our tiny craft to and fro and as anxiety and fear threatened to break us apart, I wondered, "God where are you?"  Was he asleep down below, too lost in prayer on a mountain top to hear our cries or too busy serving others to notice we were about to capsize? Were we forgotten, abandoned, left alone in the middle of the lake to perish?  I have experienced more moments of sheer terror in the past year than I ever imagined I would on a journey so clearly prompted by my faith.  Where was that light burden and why was this yoke so heavy?
After months drifting on a sea of confusion and doubt, he appeared like a vision on the horizon.  "Is that you Lord?" I asked.  Like Peter, I forgot my weak human nature and climbed out and began walking.  I was as light as a feather.  All my burdens lifted and all my fears relieved. Then the voices came softly at first whispering, "Don't forget there is hole in your boat. Don't forget the storm is still raging.  Don't forget how tired and weak you are.  Don't forget how far you are from shore.  Don't forget how large these waves are."  The voices grew louder and louder and as I began to sink the current pulled me under.  Once again I was drowning in anxiety.  As I gave up and let go accepting my own demise, a hand pulled me out of my watery grave and lifted me gently back into the boat.
Without any effort, the boat began to move almost like it was floating above the water and in an instant we had arrived at our destination.
Today I am celebrating our arrival.  This post is my pile of rocks marking the spot where we stepped out of the sea onto dry land. We arrived on the other side – stronger, more thankful and full of humility knowing that without the hand of God lifting us and carrying us, we would have perished in the storms.   The voyage was never about the destination, it was about the lessons learned along the way.
This post is dedicated to Mrs. Lavern Winfree whose still small voice reminded me every step of the way that I am a warrior even when I am being a worrier.   She never judged me or made me feel like a failure for doubting.  I have learned that there is nothing in my human nature that can withstand the crashing waves of life but there is a Spirit within that can still any storm even as we are being shattered on the rocks.
As this leg of our journey comes to a close and I look back over the pain and trials of this past year, this quote spoke to me,
 "I often want to say to people, 'you have neat, tight expectations of what life ought to give you, but you won't get it. That isn't what life does. Life does not accommodate you, it shatters you. It is meant to, and it couldn't do it better. Every seed destroys its container or else there would be no fruition.' Florida Scott-Maxwell"
While today feels like an arrival, I suspect our journey has just begun.
 "There will come a time when you believe everything is finished. That will be the beginning." Louis L'Amour