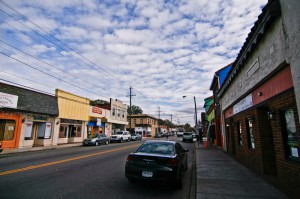 A few weeks ago, the following was posted on my Facebook and Twitter accounts:
"Cities thrive when neighborhoods thrive. Neighborhoods thrive when there is a healthy local economy.  Local economies thrive when…"
What was supposed to be posted was this:
"Cities thrive when neighborhoods thrive. Neighborhoods thrive when there is a healthy local economy.  Local economies thrive when we invest in locally owned businesses."
I was using Hootsuit to post on both Facebook and Twitter and it truncated my Facebook post to 140 characters.
Not realizing that I had intended to post a complete quote my Facebook friends wrote their own ending to the sentence.  Here are the responses:
 … people are paid a living wage for honest work.

… individuals are empowered emotionally, intellectually, relationally, spiritually and financially.

…we invest in people.

…Indigenous people are given a voice and an audience of neighbors, neighborhoods, and cities.

…we love God and love our neighbors.
What I find most interesting is how many different interpretations there were of how the sentence should end.  Even more fascinating is that none of the individuals who posted tied the health of a local economy to the health of local businesses.
Our newest community development effort along Brookland Park Boulevard is a struggling commercial corridor that runs through a mixed income neighborhood.  The neighborhood its self has a lot to offer and is far healthier than the commercial corridor.  My goal in posting my version of the quote was to encourage people to think about the commercial space and the small businesses in the neighborhood as a vital part of a thriving neighborhood.
When we invest in locally owned, neighborhood based businesses, our dollars have a far greater impact on the local economy than when we shop at businesses that are not locally owned.  So when I choose to eat lunch at From the Heart which is located on Brookland Park instead of McDonalds on the nearby commercial strip, my money supports Francis, a local business owner.  Francis uses my money to pay her rent and to hire local residents to work in the restaurant.  This helps Brookland Park Boulevard by lowering vacancy rates and it helps the neighborhood by increasing employment rates.  If I were to go to McDonalds, the majority of the funds leave the neighborhood and go to the corporate headquarters. Because the dollars stay in the neighborhood, my purchases are fueling the local economy and strengthening our neighborhood.
In 2014 Embrace Richmond will be partnering extensively with the local merchants along Brookland Park Boulevard and you will have an opportunity to see why I love this place and these people so much.   I pray you will all be a part of the transformation by shopping at the businesses we will be featuring through our upcoming "100 Ways to Experience the Transformation" campaign.  This campaign is a project of the Brookland Park Area Association that is celebrating the 100 year anniversary of Brookland Park Boulevard.  We are honored to be a part of this effort.   Please show your support by liking the BPAA Facebook page BrooklandparkRVA and watch for featured businesses and special events and offers throughout 2014.
So, how would you finish this sentence?
"Cities thrive when neighborhoods thrive. Neighborhoods thrive when there is a healthy local economy. Local economies thrive when…"