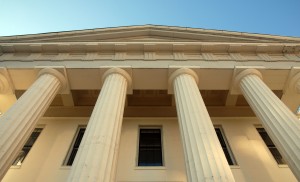 I found myself in the book of Zechariah today for the first time since I read it in Old Testament class in seminary. I got drawn into Zachariah's story.  For those of you who are like me and forgot there was a book of Zechariah, let me recap with a little help from Wikipedia:
"Zechariah's ministry took place during the reign of Darius the Great in the post-exilic world after the fall of Jerusalem in 587/6 BC. Darius consolidated power and divided the different colonies of the empire into easily manageable districts overseen by governors. Zerubbabel was appointed by Darius as governor.

In all of the accounts in the Hebrew Bible that mention Zerubbabel, he is always associated with the high priest who returned with him, Joshua. Together, these two men led the first wave of Jewish returnees from exile and began to rebuild the Temple.

The rebuilding of the temple was encouraged by the leaders of the empire in hopes that it would strengthen the authorities in local contexts. This policy was good politics on the part of the Persians, and the Jews viewed it as a blessing from God."
Verses 6-10 of chapter 4 are likely more familiar to you than the rest of the book.  They were spoken by an angel to the prophet Zechariah:
"This is what the Lord says to Zerubbabel: It is not by force nor by strength, but by my Spirit, says the Lord of Heaven's Armies. 7 Nothing, not even a mighty mountain, will stand in Zerubbabel's way; it will become a level plain before him! And when Zerubbabel sets the final stone of the Temple in place, the people will shout: 'May God bless it! May God bless it!'[a]"

8 Then another message came to me from the Lord: 9 "Zerubbabel is the one who laid the foundation of this Temple, and he will complete it. Then you will know that the Lord of Heaven's Armies has sent me. 10 Do not despise these small beginnings, for the Lord rejoices to see the work begin, to see the plumb line in Zerubbabel's hand."
My experience with government programs and approaches has not been very positive over the years.  We have found that you can do more with less if you directly empower the neighbors.  So generally speaking, I don't spend much time working with government officials.  Through the years, I have had many people suggest that I should.   I read this passage and am now convinced that the council I received and ignored was wise.
What struck me as I was reading this story was that what we often see as an "evil system" is simply a consolidation of power run by individual men and women.  Some of these individuals are self-serving and others like Zerubbabel are clearly instruments of the Lord. In this passage, God sent an angel to the prophet to encourage his servant, a government official.
I can't even imagine how hard it was for Zerubbabel to work within the political system of his day to bring about God's will.  I know our governing systems in the United States seem to many to be flawed and ineffective. I have certainly felt that way. However, I also know that many who hold office are modern day Zerubbabel's who are trying to use their power to do the will of God.
Please join me in praying for all our government officials, especially those who are fighting to bring about positive change in our nation.  I know I have not been faithful in doing this and have been guilty of judging the entire political system as broken and harmful.  This passage was very convicting and I pray I can be more like Zechariah and speak words of encouragement to those fighting the good fight even those who are doing so from within a broken sometimes oppressive system.