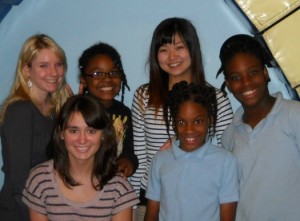 Over the past two months, I have tried to provide opportunities for a number of young adults.  In most cases we offered to hire them as interns with one requirement – they pass a drug test.  As I shared here, not one has risen to that challenge.
My friend Rudy said, "What do you expect, you are reaching out to young adults on Brookland Park.  If they had their stuff  together they would not be hanging out on Brookland Park."  I know he is right, but I still feel burdened to do something to help these young people become fully who God intended them to be.  I just can't seem to find an entry point that is healthy for everyone.  Obviously hiring people who are struggling with substances does nothing to help them or our community development efforts.
My wise friend Rudy also said, "You need to reach them before they are too far into the drug culture." When I asked him what age that would be, he said 12-16.  So, all weekend I have been pondering this question, "What would youth led community development look like on Brookland Park Boulavard?"
I have been asking this question since last summer when I wrote this post and shared these insights from the book "Generation iY: Our Last Chance to Save Their Future" by Dr. Tim Elmore:
Observation #1: They Want to Belong Before They Believe.

Observation #2: They Want an Experience Before an Explanation.

Observation #3: They Want a Cause Before They Want a Course.

Observation #4: They Want a Guide on the Side Before They Want a Sage on the Stage.

Observation #5: They Want to Play Before They Pay.
Elmore gives this practical advice for those seeking to come alongside this generation:
"Value volunteerism. Offer them opportunities to make a difference in the world while making a contribution. For us, this means creating environments where they can come up with their own ideas and implement them—all the while moving toward a common goal for the group. Give plenty of opportunity to "practice" maturity

Lay plans to mix the generations. What an adolescent needs is an adult who makes appropriate demands and sets appropriate standards for them in a responsive environment of belief and concern. In short, they need adults to display a balance of two elements—they need them to be both responsive and demanding: Responsive: to display acceptance, support and patience; to be attentive to them. Demanding: to establish high standards, directing them to target those standards.  Intentionally set times for adolescents to spend time with adults and with younger children.

Foster friendships. Draw on their teamwork skills and strong peer affiliations. Applaud appropriately—reward real skills and actual accomplishment. Develop rituals to mark and solemnize rites of passage.

Offer options. Allow as much flexibility as possible in terms of where they work, how they work, and when they work.  Challenge them with change. Make creative use of their energy and desire for new things.  Make the most of their strengths. Be intentional about using what this confident, techsavvy generation has to offer.
Youth-led teams are not entirely new for Embrace Richmond.  The picture above is of some of the leaders from the Humanities program at Monacan High School who started an after school creative and performing arts program at Oak Grove elementary school a few years ago.  These high school students proved to us that youth can lead and I know that the experience deeply impacted all who were involved.
What will our youth-led community development efforts look like on Brookland Park this summer?  I have no idea but I am thankful that Rudy is going to help us figure it out.
I would love to know what you have seen young people doing in your neighborhood to strengthen their communities.  Please share your ideas with us and I will pass them along to this new team.
Please also pray for youth who are willing to invest in the neighborhood and for Rudy and the other adults who will be guiding them.  Please also pray for young adult interns who can meet our anti-drug challenge.  We are interviewing on Tuesday and I am hopeful that God will send us some good canidates in this new group of recruits.