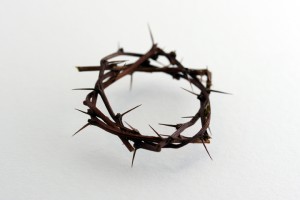 In the post "Why is God Punishing Me?", I shared the details of the very difficult journey my friend Frances has been on and why I feel like I am on a journey with a modern-day Job.  Both Kristen Lamb and Claudia Labrador immediately commented and shared the details of their own Job journey which I encourage you all to read.  As I looked at all their stories, and reflected on my own, I saw one thing that all four of us had in common.  All of us had made significant commitments that required a tremendous amount of faith immediately prior to our trials.
Here is a brief summary of my own Job journey.
In November of 2007, my father took his own life.  My grandmother died two weeks later.  An estranged member of my father's family began calling my mom in the middle of the night to frighten her. She got a dog from the animal shelter to keep her company and the dog literally died while being spayed. My mother then suffered some kind of heart condition from all the stress.  My dad's business partner then sued my mother forcing the sale of my father's restaurants which he had dedicated his life to building.  We got pennies on the dollar and suffered large financial loss not to mention the hours spent with attorney's fighting the sale.  All of this was happening when I was pregnant with my third child. Shortly after Caroline was born, our house flooded and I had three kids under 5 with a new born in the house with no walls, exposed wiring, and no carpeting for nearly 6 months because the flooding was so wide spread and the insurance was so complicated.  This was my own Job-like season.
At the time, I was at a church that was helping me discern my call to vocational ministry.  I was working with a pastor who really believed in me.  I was starting to believe that maybe, just maybe God had called this little unchurched girl from a small town in Central Texas to become a minister.
If you read Frances' Job story you will learn that she felt called to step out in faith and open a restaurant in one of our city's most challenged commercial corridors just prior to her life falling apart.
If you read Claudia's Job story, you will learn that her life fell apart shortly after leaving behind the American dream and stepping into the mission field in Ecuador.
If you read Kristen's story you will learn that her life fell apart right after she stepped out in faith and opened her own business.
Another thing that is interesting is that all of us suffered material loss, betrayal, loss of friends, health issues or death of a member of our family and all of us had major challenges with our homes (Frances and Claudia became homeless, my home was destroyed by flood and Kristen's husband had to leave the country leaving her as the head of household).
Are these patterns just a coincidence?  They sure remind me of the trials that the book of Job documents.  Could it be that the Book of Job is more than a story about an unfortunate God seeker but more of an archetype for what to expect if you decide to step out in faith? With those kinds of "perks", I don't think anyone would sign on for the job of Jesus follower.
However, if we are honest, the first followers of Jesus all had their own Job stories.  Stephen was stoned, Paul was tortured and beheaded, Peter was crucified upside down and the list of Christian martyrs goes on and on.
I know these stories are not great PR for the faith if the goal is to "attract" unchurched people to the faith but this is the reality of our shared story.  Suffering and the Christian walk go hand in hand.
When I think about the person I was before my Job season – selfish, self-centered, materialist and totally clueless about suffering, I cringe.  I would do just about anything to bring my father back but I don't think I would ever want to go back to being the person I was before.
Suffering can produce hardness of heart or it can produce spiritual growth and maturity.  Frances, Kristen, Claudia and I have all been changed by our Job seasons and I suspect they would all say that the change was for the better.
Jesus tells us that "Unless a kernel of wheat falls into the ground and dies, it remains only a single seed.  But, if it dies it produces much fruit."
I know many of you are still in your Job season and I wish I could say that it is a once in a life time season, but sadly if we want to continue to grow, I suspect it might be something we go through over and over again in various degrees of severity.
I want to thank Claudia, Frances and Kristen for sharing their stories with us and I would like to invite you all to share your stories.  In reading these three women's accounts, I started to make sense of my experience and I hope you will have the same insights into your own journey by sharing with one another.