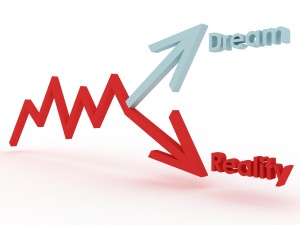 Recently I was talking with a fellow middle age, middle class, suburb woman whom God has clearly called into the mission field – a place totally out of her comfort zone.  She shared that she has been wrestling with God over this call for a while.  She asked me how I discerned my call, so I gave her a copy of my book and said, "Daily, by taking one baby step at a time."
After reading my book, she and I shared a meal together and she said, "I really want to step out in faith and join you in the work at Embrace Richmond but I am so afraid of making a mistake, of getting in over my head, of letting you down, of not being able to fully commit.  The list of concerns went on and on but they could all be summed up as "fear of failure."
I know this fear all too well.  I was a straight A student who was so fearful of getting a B, I missed out on the joy of being a college student. In my early years as a mother, I was so fearful of something happening to my baby that I missed out on her laughter.  When I was an auditor, I was so afraid of missing something, that I worked more hours than all my peers and missed out on being a newlywed. I still wrestle with a lot of fear but the best antidote I have found for a fear of failure is to simply do it – fail.
I think something happened to me when my dad took his life.  I experienced a pain so deep and so profound that nothing could ever even come close.  I also realized that I am not in control and that no matter how hard I worked or how careful I was, I was at the mercy of outside forces. Despite feeling like I wanted to crawl in a hole and die, I survived.  That experience gave me a boldness and a confidence that I did not have prior to his death.  It has been 16 years and I have gotten less and less fearful of failure.
The less fearful I get, the more risk I take and the more I fail.  For every success in ministry that I have been blessed to experience, there have been 10 failures.  I know those are not great odds but that 1 success is more than I would have had if I had never tried.  This list of 26 successful people who failed first proves my point.  Albert Einstein, Winston Churchill, Walt Disney and many others were labeled colossal failures before they were ever touted by society as brilliant.
I don't want it to sound like I have mastered fear at the level of these great men and women.  Those who know me well know that it is a daily battle for me.  No matter how hard I pray for peace, fear is still present. So for me, it is not that I don't feel fear, it is simply that I don't let it stop me. The main reason I continue to risk failure is because I am surrounded daily by some of the most courageous people on the planet.
People like Frances, who pushed through the fear and reopened her restaurant even though she was terrified of failing again.  Then there is Charles, whom after 33 years lost in addiction on the streets of Richmond, pushed past the fear of school and will graduate with his associates degree after this semester.  Then there is my new young friend who has decided to stop smoking weed despite the fact that he will likely fail several times before he kicks the habit.  All of us make courageous decisions every day when we refuse to let the fear of failure stop us.
I wish I could tell my new suburban friend that if God is in it, she will not fail.  Sadly, that would be a lie.  The truth is that our definition of success and failure is not the same as God's, so there is no way of knowing what success will look like.  I do believe most of the things that I label failures were likely successes in disguise.   For example, in my first year of working with addicts, most of my friends relapsed despite my attempts to help them stay sober.  I saw that first year as an utter failure, but today many of those individuals are clean and sober and have been for years.  We don't always see the full picture and our timing is most definitely not Gods.  We are not responsible for the outcome, only our own faithfulness.  My friend Charles' favorite statement is, "God's got this."  If I can remember this one little fact and stop thinking that it is all about me, I think I would take even more risks, fail more, but certainly see more fruit in my walk with the Lord.
This post is for all of you who are hearing God calling you outside your comfort zone.  Don't let a fear of failure prevent you from growing in your walk.  Just take one baby step each day and trust that you will grow closer to the Lord no matter what the outcome is and that is the true measure of success.
This post is part of the June 2013 Synchroblog titled "Ordinary Courage."  Read more on these topics through the links below or visit http://synchroblog.wordpress.com/2013/05/27/june-2013-synchroblog-ordinary-courage/.  
This Is Courage by Jen Bradbury
Being Vulnerable by Phil Lancaster
Everyday Bravery: Overcoming the Fear of Being Wrong by Jessica
Moving Forward Takes Courage by Paul W. Meier
How to Become a Flasher by Glenn Hager
Ordinary Courage by Elaine Hansen
Courage, Hope, Generosity by Carol Kuniholm
The Greatest Act of Courage by Jeremy Myers
Sharing One's Heart by K. W. Leslie
All I See Is Rocks by Tim Nichols
I Wonder What Would Happen by Liz Dyer
What is Ordinary Courage? by Jennifer Stahl
Loving Courageously by Doreen A. Mannion
Heart Cry: The Courage to Confess by Elizabeth Chapin
The Act to the Miraculous by VisionHub
the spiritual practice of showing up & telling the truth by Kathy Escobar
It's What We Teach by Margaret Boelman