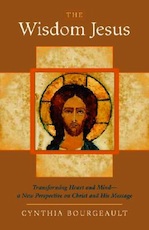 I am reading and reflecting on Cynthia Bourgeault's book, "The Wisdom Jesus."  It is one of the most challenging and thought provoking books that I have read in a long time.  Some of her insights are profound and others just make me run for the Tylenol to keep my head from splitting open.
During the season of Lent I will be sharing some of the excerpts that stood out to me.  Some, like the one I am sharing today, resonated as profoundly true in my spirit but left me searching for the practical application.  Others I am still wrestling with at even deeper levels.   Today, I am reflecting on Bourgeault's interpretation of the story of the woman at the well found in John chapter 4.
 Jesus says to the woman at the well, "The hour is coming and is even now here when the true worshipers will worship the Father in spirit and in truth, for that is the kind of worship the Father wants." The woman replies, "I know that the Messiah, that is the Christ, is coming. When he comes he will tell us everything." Jesus said, "I, who am talking to you, I am he."
Bourgeault writes, "What an extraordinary moment! It is the first time in this gospel that Jesus reveals his true identity to anyone. Something he sees in her gives him the confidence to be so nakedly vulnerable; and something she sees in him gives her the confidence to follow his lead, to go higher and higher and deeper and deeper in herself, knowing far beyond what she could know from ordinary knowingness, knowing fully in the immediacy of her heart."
Bourgeault shares this quote from Bruno, "This Jesus whom we encounter is a light at the center of the world, a fire at the world's edge. He moves beneath the images of himself as an alternate center of energy. He awakens that which lies at the core of my own being. The series of Jesus's healings in the gospels are the story of the gradual raising life and consciousness, to freedom and fullness, of this nascent person that I am. The knowledge of Jesus Christ is a unitive knowledge; it is the luminosity of my own true and eternal being."
Bourgeault continues this thread, "In other words, to quote Psalm 36, "in your light we see light." Jesus Christ standing before the Samaritan woman becomes the mirror in which she sees not only the face of God but her own true face."
Bourgeault points out that, "The early church fathers used to speak of a pathway of perception they called epinoia, which meant knowing through intuition and direct revelation, not through the linear and didactic dianoia of logic and doctrine and dogma."  She states that many of us in the west have lost this way of knowing and in so doing have lost the wisdom path that the woman at the well demonstrates.
She writes, "The Christianity of the East saw things radically differently. Christianity was supremely a wisdom path. For the earliest Christians, Jesus was not the Savior but the Life-Giver. Salvation was understood as a bestowal of life, and to be saved was "to be made alive."   The primary task of a Christian is not to believe theological premises but to put on the mind of Christ. That's what Christian orthodoxy really is all about. It's not about right belief; it's about right practice."
I will confess, I had to read several of these statements multiple times and even learned a new word thanks to Wikipedia.  "Dianoia (Greek: διάνοια) is a term used by Plato for a type of thinking. It is the capacity for, process of, or result of discursive thinking, in contrast with the immediate apprehension that is characteristic of noesis. "  Now do you understand my earlier Tylenol reference?
While I love delving into the mysteries of our faith and reading things that challenge my mind and expand  my vocabulary, I am primarily a practical theologian.  I continually ask, "So what would that look like?"  That is where I need your help.
How would Christianity change if we began to see Jesus primary identity as a Life Giver?
What difference would it make if we began to understand salvation as a bestowal of life  or to be made alive?
What would change in our Christian walk if we emphasized right practice as the pathway to this life?
Where have you seen or experienced Jesus the Life Giver in your own faith journey?