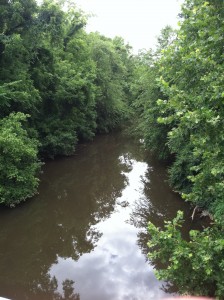 It was a warm summer day in 2005.  The place was Highland Park United Methodist Church, in the heart of the Highland Park community.  It was the first year of Embrace Richmond's existence and this largely abandoned church in a severely distressed part of our city had become home to our fledgling operation that we had named Embrace Richmond.
We would collect furnishings and housewares in the county and haul everything to the church where we would sort and organize it.  Families exiting local shelters would then come and shop.  We even provided free delivery.  The team at that time was made up of my friends from the Woodlake area, a suburban community about 30 minutes away, and formerly homeless individuals, most of whom now lived in the surrounding neighborhood ,who came to serve alongside us.
I had brought my daughters and several of their friends with me that warm summer day.  We had been working out of the church for about 9 months and I had grown increasingly comfortable with this abandoned old church but my girls still thought it was haunted. I had visions of one day bringing this monstrous old place back to life, dusting off its cobwebs and filling its halls with life again.
The girls were in the courtyard when the first shot was fired.  Our friends from the neighborhood sprung into action, ushering the children into the building before I could process what was happening.  I had never heard gunshots when we were there.  I of course knew that the area was known for violence, drug trafficking and all kinds of criminal activity, but it was the middle of the day and there were people all around.  I was totally unprepared for this.
The gunman was directly across the street firing at one of my shoppers with witnesses everywhere.  My mind could make no sense of what was going on. Thankfully, those from the community knew what to do.  "Get the kids to the back of the room and have them sit down."  We tried to stay calm and somehow a rumor got started among the children that there was a lion on the loose.  I suspect one of my kids started that tale when we refused to tell them what was going on.
"Pop, pop, pop" more gunfire rang out.  The men had gone out into the courtyard to see if anyone was hurt and I was terrified that one of them would get caught in the crossfire.  Thankfully all the shots were fired over the head of the intended victim and were likely only meant to intimidate the poor boy who had come with his mother into a rival community.
I loved that the work I was doing was something my children, then 5, 8 and 10, could participate in.  They loved the toy room where they sorted and cleaned donated toys.  This venture was a family effort at that time and I knew I could not stay in Highland Park, so we moved to a safer part of the city.  But it broke my heart to leave.  I felt like I was giving up – abandoning this neighborhood and all the friends we had made there.
On December 31st, 2012, Embrace completed a 30 day campaign to raise enough funds for us to move into our own space.  We have been operating out of shared facilities for most of our 8 year existence.  The ironic thing about our new home is that it is less than a mile from our first home in Highland Park.  God is giving us a second chance.
Today my devotional reading led me to the 9th chapter of Deuteronomy verses 1-5, (taken from the Message translation).
"Attention, Israel! This very day you are crossing the Jordan to enter the land and dispossess nations that are much bigger and stronger than you are. You're going to find huge cities with sky-high fortress-walls and gigantic people, descendants of the Anakites—you've heard all about them; you've heard the saying, "No one can stand up to an Anakite."  Today know this: God, your God, is crossing the river ahead of you—he's a consuming fire.

But when God pushes them out ahead of you, don't start thinking to yourselves, "It's because of all the good I've done that God has brought me in here to dispossess these nations." …No, it's nothing good that you've done, no record for decency that you've built up, that got you here."
At the time of the shootings in Highland Park, people started telling me that I needed to be prepared for "spiritual warfare."  They said, "This was an enemy attack and you need to go on the offensive and pray against the forces of evil."  To be honest, this scared me to death!  I remember telling my friend Butch that "Embrace is more like the Red Cross, we want to be behind the lines supporting the front line warriors."
A lot has changed in 8 years.  The Highland Park community has gone through a lot of changes.  The abandoned house that the gunman retreated into has been renovated as have many other blighted properties that now house young families.  The commercial corridor was almost entirely vacant in 2005 but thanks to the work of Boaz and Ruth, there are now businesses and job opportunities in what was and still is one of Richmond's most challenged communities.
My friends Martha Rollins and Butch Johnson have been laboring in Highland Park since before I got there.  I think the work they have done is amazing but both will tell you, it was God who had gone before them that deserves the credit.
As we cross over our own Jordan and embark on this new adventure on Brookland Park Boulevard, I do so with great peace.  Where I once saw danger, I now see God at work.  Where I used to feel intimidated and unprepared, I now know that it is not about me, my ability to do spiritual battle or anything good in me that will lead to success or failure of this venture.  It is all God's work and I am simply along for the ride.
The next time gun shots ring out or darkness temporarily overshadows the light, I pray I can hold onto the knowledge that God is with us and is ahead of us driving back the darkness. My role is simply to keep the darkness from overtaking me.  Fear is my enemy, not the gunman.
My prayer is that I can live 2013 in a way that reveals that I truly believe God is with us and has preceded of us – a light shining in the darkness.
What promise of God are you claiming for 2013?