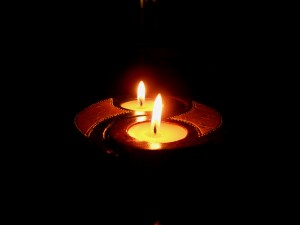 Yesterday I shared these words from the AA Big Book, "I can find no serenity until I accept that person, place, thing or situation as being exactly the way it is supposed to be at this moment. Nothing, absolutely nothing happens in God's world by mistake." Today, I am wondering if I truly believe this.
This year has been a year of tragedy for our country.  The flooding in New York and New Jersey followed by the shootings in Connecticut; A significant portion of American's still out of work; A governmental system that seems to grow more dysfunctional every year. When I first read the statement, it resonated with what I have been taught by the church – God is in control.  But in the midst of so much suffering and pain, do I really believe these words?  Was God in control when the gunman slaughtered innocent children at Sandy Hook Elementary?  I find it offensive to even think such a thing.
Pastor Sammy Williams is a man I deeply respect.  His spiritual depth and honest assessment of the bible have allowed me to feel at home in the church for the first time in a long time.  However, Sammy said something this past Sunday that has me a bit perplexed.  He defined the word "hope" as the realization that God is in control.  When he said it I wrote it down and thought, "Yes!"  This morning that "Yes!" has turned into a "really?"
As we enter into this new year, I want to believe with certainty that God is in control and that whatever situations I face will be exactly the way they are supposed to be at that moment.  I want to believe that tragedies like Hurricane Sandy and Sandy Hook, will never touch my family and that I will never feel the pain of losing a family member tragically, unexpectedly and in a way that no loving father would allow.  Unfortunately, my own life experience and the continued pain all around us will not allow me to confidently make that statement.  Doing so would require that I believe God allowed these tragedies and this thought is totally inconsistent with my experience of our loving father.  I simply cannot do it with any level of integrity.
Pastor Sammy shared a beautiful message after the Newtown masacare in which he reminded us, "The light shines in the darkness, and the darkness has not overcome it." He said, "Christmas is about light and darkness: Light from beyond breaking into the world's darkness; God entering this world in person to show us why we have hope."  He goes on to write,
"On December 14th, 2012 darkness covered all. A thick, evil, unthinkable darkness as twenty first graders, six educators, and one mother were slaughtered, and the lone gunman then took his own life.

But these Advent candles remind us that faith is a decision: we choose to believe that the light shines in the darkness and we choose to believe that because God raised Jesus from the dead, darkness—no matter how evil, how deep—is temporary; one day it will be swallowed up and banished by God's great everlasting light.

Our decision to choose hope instead of despair, somehow reflects the light of Christ into the dark corners of this world. In a dark sea of evil, doubt, anger and frustration, you are lighthouses of sacred love."
We live in a liminal time between the initiation of God's work through Christ and the culmination of that work.  The light can and will overcome darkness but the light does not control the darkness.  I choose to believe that even in the darkest of times the light is present.  That may not be as comforting as a confident proclamation of "God is in Control" but it does give me hope.
May you all enter this new year filled with hope and may the light of Christ shine more brightly in and through you.