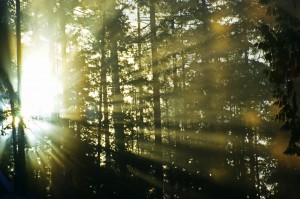 A few weeks ago, I went on a retreat to our cabin in the woods.  My husband and I purchased the land in 2004 when our girls were 6, 8 and 10 years old.  It is a very rustic get away for our family, just one step up from a tent.
Now that my girls are teenagers, they often prefer to stay in the city with their friends.  I find the silence to be healing to my soul.  Yet when I am there I experience peace but also a longing.  It is a longing for a season that is yet to come.  A season I have only gotten fleeting glimpses of.
It is a season that lies in the future, when my girls are all out of college and Chris and I are able to retire to this place.  I dream of the small house with a large porch perched at the top of the ridge.  I have visions of sitting in a rocker looking out over the ledge, listening to the creek and being fully present in this place.  Right now, I am in a "now" but "not fully realized" state of enjoying the gift of this property.
While I was on retreat this past weekend, I was reading a book titled "Space Between" by Eric Jacobson.  Jacobson reminds us that as Christians we are in that "already but not yet" time.  Jacobson writes:
"The eschaton is not some kind of an abstract future that looms far beyond the distant horizon but is rather a dynamic state that exists beyond our linear time. Rather than us simply traveling toward it, the eschaton is also breaking into our world in various signs of the coming kingdom.

We saw the beginning of this in-breaking when Jesus came in the flesh, and it became firmly established when he gave his life on the cross. It will be fully realized when Jesus comes to assume his rightful role as king. We see evidence of the coming reign of Christ throughout our everyday life. Part of what Christian faithfulness involves is being attuned to evidence of this in-breaking as it occurs.

Eugene Peterson has likened this activity to bird-watching in an otherwise ugly place. Most people see only the ugliness, but the learned bird-watcher has trained his or her eyes to see the rare specimens of birds that are in evidence all around.

Biblical Christians need to attune their eyes to evidence of God's kingdom breaking in where others see only chaos and tragedy. And biblical Christians need to calibrate their lives and their work in response to the truth of God's unstoppable kingdom rather than the falsehood of common perceptions.

Theologians describe this in-between time of our existence as the "already and not yet." We live in that nebulous space between Christ's first coming in the incarnation and his second coming to usher in his kingdom in power and glory. Christ's victory over sin, death, and the devil is already accomplished. However, as we wait for its full realization, our lives continue to be marked by heartbreak and pain."
The work I do in the space between church and world is teaming with evidence of God's in-breaking spirit.   My property is a "thin place" – a place where I can see it all with greater clarity.  Being in creation helps me center spirit.  Silence helps me hear God's voice more clearly.
How do you keep your life and work calibrated to the truth of God's unstoppable kingdom?
Where have you seen the in-breaking of God's spirit?