Tags
Related Posts
Share This
Joining God in the Neighborhood – Insights from Alan Roxburgh part 1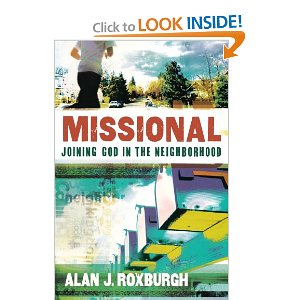 Missional: Joining God in the Neighborhood  by Alan J. Roxburgh, is probably one of the best books I have read this year.  I will be sharing several posts containing some of the most insightful segments.  This post contains the basic premise of the book.  Roxburgh writes,
"At this point in our history, we need to be asking radically different questions:  What is God up to in our neighborhoods and communities? How do we join with what God is doing in these places?  What is the nature of an engagement between the biblical imagination and this place where we find ourselves, at this time, among these people? What then will a local church look like when it responds to such questions?
When we are truly seeking to know what it means to be God's people, we will want to know what God is up to in our neighborhoods and communities and what it means for the gospel to be lived out and proclaimed in this time and place.
The focus and direction of these questions are not primarily about the church, its inner functions and processes, or its ideal identity and nature. They are about God and how God relates to our neighborhoods.
We don't encounter this God through universal principles, formulas, visions, and values but through the concrete, grounded stories of God's life in the ordinary. Luke takes pains, for example, to locate Jesus's birth in the concreteness of place at a specific time to particular people with names and addresses.  Only through his indwelling place and time is this God known.
We come to know God in the concreteness of particular stories that have occurred at specific times and places. We come to know the nature of the gospel, not through some form of romantic universalizing, but in the social constructions of our lives, through the social imaginaries of our time and place, and through the concrete encounters we have with the people and communities about us.
Jacob must wrestle with God all night. In the end he can only participate in God's story as he is wounded; he must limp for the rest of his life. But the man, Jacob, receives a new name, Israel, meaning he who strives with God. This was Israel's experience of being inside God's story, as it must be for all who are drawn to it. Why would it be any different for us?
Jesus was inviting people into the adventure of God's story because this is where life is discovered.  In Jesus's hands, stories opened worlds for people whose imaginations had collapsed down narrow tunnels with little light. Often Jesus's stories became landmines. At first, they seemed innocent enough, but once a person got inside the story or parable, it would explode unexpectedly, crack open little worlds, disorient a taken-for-granted life, disrupt practiced scenarios, and overturn assumptions so that the brightness of God's future could be seen.
The New Testament is full of these stories that chronicle God's everyday dealings with ordinary people. Scripture isn't a textbook of information or moral direction; it isn't a formula for making life work or a religious Dr. Phil handbook for people who want to improve their lives, expand their bottom line, or ensure their kids get the right start in life. It is full of stories that invite us into the drama of where God is moving creation. Christians are invited to embody this drama."
What is God up to in our neighborhoods and communities?