Tags
Related Posts
Share This
The Vanishing Trail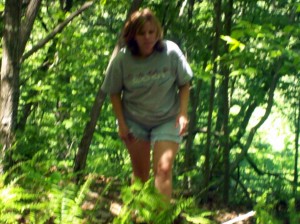 In the spring of 2011, I set out to build a trail on our land.  Our property is on a very steep ridge and I wanted to cut a path into the side of the ridge that would allow me to access parts of our land that are difficult to reach.  I took hot pink surveyors tape and tied it to the trees to serve as my guide as I cleared the debris and then my husband and I went back with a shovel to cut into the dirt to build a level foot path.
It was hard work but it was also a spiritual practice for me and it helped me to see that God often calls me to blaze new trails, an insight I shared in a post titled "The Spiritual Practice of Trailblazing."  I like being a bit of a pioneer.  I like creating new paths.
This past spring and summer has been exceptionally busy for me and I have not had many opportunities to travel the path I was working on.  So last weekend, I took a 3 day retreat out to our land.  I decided to walk the section of the path I had built in 2011 and was very distressed to find that it had disappeared.  The grass had grown over it, the leaves from last fall were covering it and tree branches and trunks had fallen across it.  I searched for my hot pink trail markers and became increasingly disoriented when I could not find any.  These plastic markers should last for decades but for some reason, they were gone.
As I anxiously began walking up and down the ridge searching for signs of my trail, there was a growing sense of confusion.  None of this made sense to me.  How could my path disappear?  Why would anyone remove my trail markers?  Our property is in the middle of nowhere.  The realization that someone could have removed the makers, which is the only thing that makes any sense, created a sudden panic. Was there someone out there in the woods with me? For a few moments, I was totally disoriented and could not figure out what to do next.  I doubled back, went to the bottom of the ridge and looked up, went to the top of the ridge and looked down and still there was no evidence of the dozen or more markers.
I decided simply to move in the direction I thought the trail went and about 10 minutes into my hike, I began to recognize where I was and found a small portion of the trail where I had cut into the dirt.  There were still no trail markers but I knew I was heading in the right direction.  Soon, I came upon a grove of large walnut trees, the largest trees on our property, which further confirmed my location.  I knew how to leave the forest from that place and so I climbed the ridge, found the road and returned to my cabin.
I go to my land to gain perspective.  I often read, pray and simply rest in presence of creation.  I usually emerge from the experience with a sense of clarity – knowing the next steps to take in our work.  This was the first time I emerged from the experience with a strong sense of unknowing.
While I was at my retreat this weekend I was reading two books, Missional: Joining God in the Neighborhood  by Alan J. Roxburgh and The World Cafe: Shaping Our Futures Through Conversations That Matter by Juanita Brown and David Isaacs.  Both books are about the importance of relationships, conversations and allowing our insights to come from the collective instead of relying on individual experience or abstract knowledge.
What I gleaned from my time lost and alone in the woods searching for the path was that the journey ahead of us is a communal journey and that the path will be revealed as we walk it out together.
When I got home from my retreat, I had an email from my co-worker Charles who wrote to thank me for believing in him.  In his email he shared how he had helped two young men gain employment and how he is helping a young family with housing issues.  He shared how a group of young boys, who are being mentored in his home, had thanked him with a gift.  I had very little to do with any of these activities.  God was using Charles and all I was doing was connecting him to people I thought could help him.  He shared how he was seeing God at work in ways he never imagined and wrote these very affirming words
"Wendy, you have touched the lives of so many people through your believing in me that it has to be GOD at work through you. This is just a small portion of the work that's being done in spreading the love of GOD in the North-side community in such a short period of time. I've always loved your dreams even when I didn't understand; keep thinking outside of the box.  The church with no walls, I really understand. "
As a leader, I like to see where my team is going.  I like to get out ahead of pack and blaze the trail.  However, we are entering a new season and my teammates have grown into amazing leaders.  What God was showing me through the vanishing trail is that I cannot discover it alone.  It will require Charles, Qasarah, Patrice, Rudy, Victor, Lindsay, Denise and Roger as well as the dozens of amazing folks God has brought into our ministry recently.  We have to work together to discern the path we take from here.
Last week we ended the AmeriCorps chapter of Embrace Richmond's journey.  In that chapter, we had defined outcomes, our program was established, everyone was "supervised" by a staff member who set the direction of the team, our processes were in place and we were under tremendous scrutiny from people who were totally disconnected from our day to day encounters.
September 1st we entered a new phase of our journey.  We now have total freedom and for this brief moment in time, we have countless paths forward.  My challenge as a leader is this – be still, wait, listen and encourage other trailblazers on our team to pick up their shovels and move us forward.
Please keep us in your prayers.  We are all feeling a little disoriented and anxious about what lies ahead.  I want to respond out of my own strengths as a leader but God is telling me to step back and allow the confusion to call forth the leaders for the next leg of our journey.  This is likely the hardest season I have ever faced as a leader.  It requires that I trust that God is at work in others and it requires that I receive direction from those I thought I was leading.  I have to admit that I can't see the path and I have to ask others to help me.
Can you relate to the season I am in?
Have you ever tried to move forward, begged God for direction, only to hear that the path is not yours to build?
Who are the trailblazers God has called you to follow?