Tags
Related Posts
Share This
What Are You?: Pushing the Extremes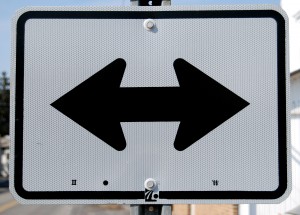 My 13 year old daughter, Caroline,  is just starting to try to understand the different labels we ascribe to people in our society.  In her civics class, they had the children take a test to determine how "conservative" or "liberal" they were in their belief system.  Like her mother, Caroline found the labels somewhat confusing.  Caroline is a big believer in small government that stays out of our lives.  So on social issues, she was rated a liberal and on fiscal issues she was rated a conservative.  Thus she was totally confused – the labels just did not fit.
She found the labeling of Christians equally confusing.  A friend asked her, "What religion are you?" to which Caroline replied, "Baptist."  I suggested that she use the label, "moderate Baptist" to differentiate herself from the "Southern Baptist" who do not support women in ministry.  Her reply cracked me up.  She said, "Why don't the Southern Baptist join the Catholics since they share that belief?"  When I burst out laughing, she said, "Why don't we all just call ourselves Christians?  This is too hard to understand."
That is a good question.  Why are these labels so important to us?  Why do we seek to differentiate ourselves from one another?
I was at my favorite coffee shop talking with a young Baptist minister who said something along the lines of, "I have to be careful what I say around denominational folks because I never know what camp they are in."  I understood the comment and have had the same experience.   Labels are devised to help us understand the beliefs people hold.  When we know someone's belief system, we know how much of our own beliefs we can safely share.  This young minister said, "There are so few places where I can be fully me."
This is not the first minister to share that they keep their true beliefs in the closet for fear of judgment by various factions of the Christian faith.  While I hate that the body of Christ is so deeply divided, I have come to realize that the labels I have resisted through the years, do serve a purpose.  However, I think some of the labels we have inherited are insufficient for our contemporary sets of beliefs.  I know I personally have a hard time fitting into any one camp.
My 77 year old spiritual mother, Pat, is a contemplative Catholic.  She was sharing this week that her Catholic friends can't understand how she and I have so much in common.  We both love Richard Rohr, St. Francis and are both dedicated to living our faith in the world in a way that is tangible.  She wears her Catholic label proudly and I guess moderate Baptist is a label I can accept if I am forced to choose.  We are an odd pair but we are both rebels in our own traditions.  A few years back we went to see Richard Rohr and Shane Claiborne speak together.  It was a gathering of rebels from all across the nation, all ages and all faith traditions.  That was one place I felt completely at home.
I am not sure if this confusion over labels is new or if it has always been this way.  I personally think the polarization both politically and in religious circles is causing more and more of us to resist the existing labels.  If you are like me and prefer the middle ground, you will likely feel unsafe in the current climate that seems to want to push everyone to choose an extremest position.  My advice to Caroline was to rejoice in being a bit odd and resist being forced to conform to an ideology defined by others.  I assured her that there are others out there like her.  Others who, like my friend Pat, are able to hold the tension of being a bit different but still affiliating with historic faith traditions.
Do you find the existing political and religious labels sufficient to describe your beliefs?
If not, is there new language emerging to better fit emerging belief systems?