Tags
Related Posts
Share This
Valley of Abandoned Buildings: Let the Four Winds Come (Part 1)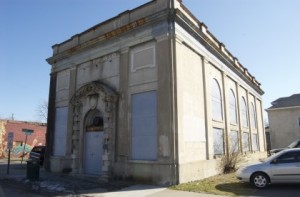 In January 2012, at the invitation of Northminster Church, my Embrace Richmond team started a new work in Richmond's north side (specifically the neighborhoods bordering Brookland Park Boulevard from Moss Side to North Avenue.)
The first phase of any new community development effort is listening.  As we have been listening,  something very strange has been happening – the abandoned buildings have begun to come alive (at least in my imagination).
Over the past few weeks the 37th chapter of Ezekiel which has been haunting me:
1 The hand of the LORD was on me, and he brought me out by the Spirit of the LORD and set me in the middle of a valley; it was full of bones. 2 He led me back and forth among them, and I saw a great many bones on the floor of the valley, bones that were very dry. 3He asked me, "Son of man, can these bones live?"

I said, "Sovereign LORD, you alone know."

4 Then he said to me, "Prophesy to these bones and say to them, 'Dry bones, hear the word of the LORD! 5 This is what the Sovereign LORD says to these bones: I will make breath[a] enter you, and you will come to life. 6 I will attach tendons to you and make flesh come upon you and cover you with skin; I will put breath in you, and you will come to life. Then you will know that I am the LORD.'"

7 So I prophesied as I was commanded. And as I was prophesying, there was a noise, a rattling sound, and the bones came together, bone to bone. 8 I looked, and tendons and flesh appeared on them and skin covered them, but there was no breath in them.

9 Then he said to me, "Prophesy to the breath; prophesy, son of man, and say to it, 'This is what the Sovereign LORD says: Come, breath, from the four winds and breathe into these slain, that they may live.'" 10 So I prophesied as he commanded me, and breath entered them; they came to life and stood up on their feet—a vast army.

11 Then he said to me: "Son of man, these bones are the people of Israel. They say, 'Our bones are dried up and our hope is gone; we are cut off.' 12 Therefore prophesy and say to them: 'This is what the Sovereign LORD says: My people, I am going to open your graves and bring you up from them; I will bring you back to the land of Israel. 13 Then you, my people, will know that I am the LORD, when I open your graves and bring you up from them. 14 I will put my Spirit in you and you will live, and I will settle you in your own land. Then you will know that I the LORD have spoken, and I have done it, declares the LORD.'"
As I walk past the abandoned dry bones that were once thriving businesses, I feel this may be the valley God has called me to prophesy in.
In the past month we have met a number of business owners.  There is Micheal at the Bakery, Twiggy the restaurant owner, Roy at the corner store, DeWight who just opened the car wash and many others.  When we asked them what they would do to improve this community they all said reduce the criminal element that hangs out on the street corners.  The police are heavily patrolling the main strip but they can not be everywhere.  Of the roughly 65 commercial spaces along this strip, I have only seen 25 of the stores open with most of the others in various states of disrepair.  With these buildings lifeless, darkness will continue to plague this area.
The first few times we walked the corridor, I was keenly aware of the criminal element and the large number of abandoned properties simply conveyed a feeling of hopelessness.  After nearly three months of walking this same corridor, the sense of fear has disappeared and I no longer see what is in front of my eyes – I see what could be.
The question is how do we get from what looks like lifeless dry bones to the fullness of what God would have for this area?  I believe Ezekiel holds the key.  As we enter this new work, I feel led to spend some time unpacking what Ezekiel has for us.  I have rarely done posts in series but this is just too rich to unpack all at one time.  I pray you will join me in this journey which is literally unfolding daily.
What are these buildings saying to you?
Will you join me in praying for the four winds to blow over this area and breath new life?
Where are the dry bones in your community?
What is the role of Christians in the restoration of abandoned places in the kingdom?