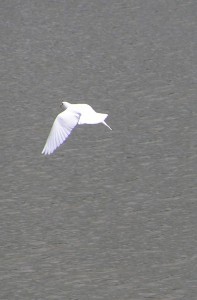 This post is a personal confession.  I have been in hiding.  I know God called me to minister boldly as a part of the church universal but I have been hiding behind my non-profit and under my "Executive Director" title.  I have been hanging out in the margins with people who let me be me.
But just like Jonah, I am discovering that the call to go to Nineveh is in inescapable.  For me Nineveh is the institutional church.  A place that can be as brutal to women ministers as ancient Israel was to the prophets.   Well maybe that is an overstatement, but you know what I mean.  It is far easier to just not go there – to remain in hiding.  Is that a big fish heading my way?
Why am I in hiding?
I am a grown woman.  I am a former CPA who founded a rapidly growing non-profit that has managed to keep the doors open for ten years in the midst of a recession – no small accomplishment.  I have demonstrated that I can hold my own in the corporate and non-profit arena. So why am I running from the institutional church?
The truth is I am afraid – afraid of being caged.  When I think of the institutional church, the memories come flooding back.  I have the memory of serving on a mission's team and being told that the most important role I could play was to bake cookies for the outreach efforts even though I don't cook and have a Masters of Divinity.  It is the memory of being told that I could lead as long as no one saw me as a leader because I was a woman and that would be unbiblical.  It is the memory of asking my church for $100 to help a family avoid eviction and being told there was no money because of the multi-million dollar building campaign.  This basically said to me, "Your call to care for the poor is not a valid call of the church."
None of these comments were malicious.  None of the individuals meant to cage me.  One by one these limitations, messages and painful situations convinced me that I could not be me in the institutional models of the church. So I left and choose to exercise my call within the non-profit sector.  I know I am not alone in this.  Most people don't start non-profits but many leave the church to follow their call.
So that is why I am terrified of going back. That is why I have fled what I see as my Nineveh.
My call is to be a dream releaser – someone who helps people break out of cages, especially culturally constructed ones.  The thought of going back into one makes me want to run the other way screaming.  I have spent nearly ten years building a releasing ministry.  I watch as people who have been told all their life that they "can't" discover that they can.  I watch as people tap into the power of "we" that is fueled by the power of the Holy Spirit and do things they never dreamed they would do.  What I have discovered is the most spiritually rich form of Christian community I have ever been a part of.  I discovered "the church" beyond the walls of the institution.  It is right were Jesus said it would be – in the margins of society.
Isn't that what the church should be- a releasing ministry engaged in the margins?
I have a dream – the dream of the church being a place where I can be me and where my materially poor friends are valued.  A place where a female minister is not a strange anomaly to be managed but a gift to be celebrated and seen as equal to her male counterpart.  I dream of the church being a place where my call to hang out where Jesus hung out is not seen as a quirky thing reserved only for those who are "called", but a spiritual discipline for all believers.  I dream of a place where my homeless friends are seen as Christ in the flesh with wisdom to share and spiritual depth few will ever achieve. I dream of the church being a place that destroys cages instead of constructing them.
I recently wrote a post titled, "In the Company of Junia", in which I shared insights from Scot McKnight's book about Junia, the female apostle named in Romans 16:7.  That post got a lot of activity and I received many comments on it from both strangers and friends who feel caged by their churches.
There is a growing sense in my spirit that God is calling me to go back into the institutional church, my Nineveh.  Not because I need to be there to fulfill my call but because someone needs to let all the Junia's go free.   Imagine what would happen in our country if all the women (and men) who feel called to serve but caged by the church were free to fly.
What if the church became a releasing structure instead of a structure built on power and control?
Imagine what would happen if the church entered into the margins instead being a place focused on self-preservation?
I am thankful for theologians like Scot McKight who have exposed the claim that women cannot be leaders in the church as faulty and unbiblical.   However, Junia is still not free.  The cage door is open in many churches, but she is still afraid to leave the cage.  Someone has to go back in there and show her how to use her wings.  She has never seen a woman excel within the structures of the church. Someone needs to model that it can be done.
I am thankful for practitioners like Shane Claiborne, Robert Lupton and John Perkins who have reminded the church that it is to be a blessing to its neighbors.  They have ignited a new generation of Christians who are more interested in following Jesus into the margins than in sitting in a pew on Sunday mornings.  However, those called to justice ministries are still not free.  The path has been illuminated but it seems to start outside the church walls so many don't know how to find it.  Someone has to build a trail leading from the institutional structure out into the world.  Those sitting in the pews need to see someone who is walking the streets and meeting Jesus in the margins.   Someone needs to model what missional living looks like within the context of the institutional model of the church.
This past week a friend named Roger came to Hillside.  Roger is a recovering addict who was formerly homeless.  Roger shared that he did not want to come into the projects.  He said, "I escaped from this place and I never wanted to come back."  Fortunately my friend Rudy convinced Roger that he had an obligation to help others find the freedom that he has found.
Is that what God is saying to me?  Do I have an obligation to help other women and individuals who are called either to vocational ministry or to justice ministries learn to fly? Do I have an obligation to the church to help build releasing structures so that all can see their God-given dreams flourish?
Is this my call?   
Perhaps, it is the call of all of us.
Junia can fly – will you show her how?
Christ spirit dwells in the margins – will you lead others to it?
December 2014 Update: This post was written in the spring of 2012 and was the beginning of a long journey back.   In the fall of 2014, I helped to launch the Embrace ABCD Training Institute with the goal of helping train and coach church leaders in how to build releasing structures that connect church members with the community in a way that is healthy for both church and community.  I am now spending more than 50% of my time with church leaders and I am finding that I actually kind of like Nineveh!  The cages are being deconstructed and I am blessed to see many Junia's soaring.   If you would like to learn more about our church based training opportunities please email me at wendy@embracerichmond.org.
This post is part of a synchroblog titled "All about Eve."  Links to other posts on this topic will be added Tuesday evening.
Michelle Morr Krabill – Why I Love Being a Woman
Marta Layton – The War on Terror and the War on Women
Ellen Haroutounian – March Synchroblog – All About Eve
Jeremy Myers – Women Must Lead the Church
Carol Kuniholm – Rethinking Hupotasso
Tammy Carter – Pat Summit: Changing the Game & Changing the World
Jeanette Altes – On Being Female
kathy escobar – replacing the f-word with the d-word (no not those ones)
Melody Hanson – Call Me Crazy, But I Talk To Jesus Too
Glenn Hager – Walked Into A Bar
Steve Hayes – St. Christina of Persi
Leah Sophia – March Syncroblog-All About Eve
Liz Dyer – The Problem Is Not That I See Sexism Everywhere…
Sonja Andrews – International Women's Day
Sonnie Swenston-Forbes – The Women