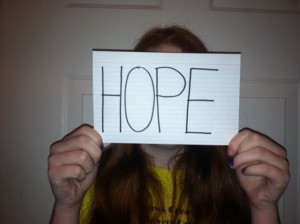 Yes, my 13-year-old daughter has political aspirations.  She is a total drama queen, highly photogenic and that red hair is sure to catch the attention of voters.  But she has more than her looks and dramatic personality.  She has a clear platform that will save lives and lead America into a brighter future.
Her new found interest in politics was sparked by a Rick Perry ad with this quote:
She asked me,
"Why does Rick Perry hate gays and why is he making such a big deal out of them serving in the army? Why is he so concerned about prayer in school when the real issue is people being beaten and picked on because people think they are gay?  They don't even have to be really gay, if they just look a little gay, people pick on them and he is just going to make it worse for kids. Why does he make it sound like being Christian is about hating gays and pushing Christianity on non-Christians?  If I was going to run for office, I would focus on making America a place where no one is picked on – a place where people can just be who they are; gay or straight, Christian or non-Christian, black, white, Hispanic, or Asian.   That is what people my age care about!  We want a country that treats everyone equally."
I asked my budding politician if she wanted to someday be president and she said, "No, I want to be a congresswoman because they have the real power." She is one smart little cookie.
I know Governor Perry is a politician who is playing to the Christian right.  Perhaps he would see my daughter's dream as naïve and political suicide.   I am sure his campaign manager has little interest in the dreams of a 13-year-old red-head from Virginia.  However, it is the dreams of that little red-head and young people just like her who give me hope for this country.
So, if you are a pollster trying to figure out how I will vote – my vote is for Caroline and future generations.  May we all listen to our children and embrace their dreams of a more loving society.
Today the Embrace Richmond team celebrated MLK Day in the Hillside community and Qasarah Bey, our program director, did a dramatic reading of Dr. King's "I have a Dream Speech." Dr. King's dream and that of my daughter don't really sound all that different to me.  They sound surprisingly like the dreams of our founding fathers who envisioned a country that affirmed that all men (yes, not only blacks but also gays) were created equal.
So as the rhetoric and politicking continue, and as our politicians crawl into the gutter and sling mud at one another, I pray we will not get swept up in the ugliness that tends to only polarize and divide us as a nation.  I pray instead we cling to a dream, a dream that will lead to freedom, equality and the pursuit of happiness for all our nation's citizens.
One of my favorite quotes from my book, "From the Sanctuary to the Streets", was from an interview I did with a case manager named Martha who is helping homeless women break out of poverty. Martha said,
"With a dream comes hope, hope in a future that is better than today's reality.  A dream is a powerful motivator."
Today in Hillside Court, one of Richmond's most distressed communities, we took the time to dream together.  We gave the children from the community a large banner and asked them to draw their dreams.  The children drew pictures of people caring for one another, of a more beautiful neighborhood complete with an apple tree, but the overarching theme was one of peace and mutual respect.  It was amazing how that same theme of love for our fellow man dominated not only the drawings of the children but also of the four adult groups who drew their own dream banners. It was the hope of a more loving society that inspired our dreams today.
Hope in a better future – it is the beginning of every dream.  When our dreams grow out of God's desires, our dreams have the power to change the world. Have you ever noticed that dreams are contagious?  Dr. King's dream ignited a hope that spread across this nation and changed our society.  Today in Hillside, I saw people rediscovering hope for their neighborhood and the power of unity to bring it to life.  My daughter's dream gave me hope in our future generation of leaders and inspired me to write this post.  Want to start a revolution of hope?  Start sharing your dreams!
What are your dreams for this community and this country?
What are the dreams of your children?
Do we dare dream of a society defined by its love?
This post is a part of a synchroblog. Below is a list of all the posts and participants in this month's synchroblog:
The Trouble With Hope: John Ptacek
Hope = Possibility x Imagination: Wayne Rumsby
Little Reminders: Mike Victorino
Where Is My Hope: Jonathan Brink
Hope for Hypocrites: Jeremy Myers
Now These Three Remain: Sonny Lemmons
Perplexed, But Still Hopeful: Carol Kuniholm
A Hope that Lives: Amy Mitchell
Generations Come and Generations Go: Adam Gonnerman
Demystifying Hope: Glenn Hager
God in the Dark: On Hope: Renee Ronika Klug
Keeping Hope Alive: Maurice Broaddus
Are We Afraid to Hope?: Christine Sine
On Wobbly Wheels, Split Churches and Fear: Laura Droege
Hope is Held Between Us: Ellen Haroutunian
Hope: In the Hands of the Creatively Maladjusted: Mihee Kim-Kort
Paradox, Hope and Revival: City Safari
Good Theology Saves: Reverend Robyn
Linear: Never Was, Never Will Be: Kathy Escobar
Caroline for Congress: Hope for the Future: Wendy McCaig
Fumbling the Ball on Hope: KW Leslie